Complete glass filling lines
Manufacturer: KRONES, PROCOMAC, ACMI
Model: PROCOMAC JUGO JHF 50-40-135
Year: 2002
Location: Europe
Output: 17.000 U/h
Bottle Size: 200 ml, 1000 ml
Refurbished in year: 2013
Availability: 1 – 2 months
Current condition: In Production
DETAILS:
Complete Procomac hot fill glass line
For 200 ml to 1 L bottles
Capacity:
10000 bottles hour for 1 L
17000 for smaller bottles
Renewed in 2013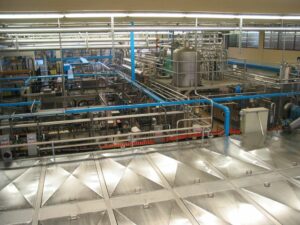 The line includes:
Decaser SPIDER D5 (construction year 1994)
Display RINK
Hydra Bottle Washer (2002)
Krones Bottle Inspector (1997)
Rinser and sterilizer PROCOMAC Grpstar ACE (2002)
Pasteurizer Tetra Pak year (2002)
Filler PROCOMAC JUGO JHF mod. 50.40.135,7 (2002)
Cap Closer Schmalbach Lubeca, year 2002
Coling Tunnel SBM Pasteur/Back Cooling (1981)
Krones Labeller (2002)
Cap Controller Schmalback Lubeca (1981)
Crate Washer FURY AKOMAG (2002)
Crater ACMI Spider 13 (2002)
Case Packer COMAG (2002) Check Depositor APEX (2007)
Folding Boxc ASETNA DIMAC Starwrap R10 (2002)
Carton Laeller KRONES CARTINA D (1988)
EAN Code Printer PAGO (2000)
Pallettiser ACMI Rasar (2001)
Pallet Binder BORN / PAGO (2000)
Banding machine Robopacc (2001)
Line in production until October 2020 and in excellent condition
Can be inspected immediately.
At a discounted price.
Contact us for more information.