Why Invest in Used Lines, Equipment & Machines?
You have a "green field'' or an existing plant and respectively, You would like to make a new factory or to extend the capacity of your existing plant.
The project needs to acquire new or used equipment and the decision making falls with you.
Firstly, You start collecting offers for new equipment and creating a comparison table between different suppliers.
And by doing the job we mean increasing productivity (isn't that always the goal?).
How do you decide on which equipment to purchase?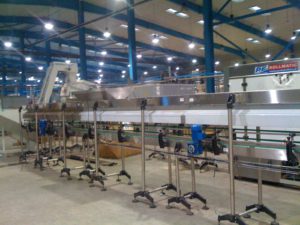 There are several factors you need to consider when making the decision but the most important factor, of course, is…
Budget
If budget was indeed unlimited, then by all means investing in new equipment is your goal. However, budget is almost always limited and that means used equipment is the right solution.
There are other factors apart from budget such as:
Maintenance cost
New equipment generally has lower maintenance costs than used equipment. It also has warranty from the manufacturer whereas with used equipment that warranty has either expired or has less time before it expires.
Up to date technology
When buying used equipment always check if it has an up-to-date technology.
The ease of the purchasing process
Used equipment needs to be tested before purchasing, often multiple times, to determine its performance and workability.
Availability of spare parts
And also the providers you'd be purchasing them from.
What are the main advantages of used equipment?
In the most general meaning of the term used equipment, there are a few:
Lower purchasing price

Faster ROI

Shorter acquiring process

Lack of many short-term problems that occur in the early stages of a new project related to the installation of new equipment

Maintenance records are usually available to examine
The broad term used equipment can be divided into three categories:
Second-hand equipment
Also known as 'As is, where is'.
Such equipment can be categorized in two ways:
still running or operational – the buyer can easily identify its functionality
non-operational/dismantled – usually stored away making it more difficult to determine its performance. Multiple tests should be run on such equipment as well as calculating any additional costs for repairs if needed to establish if the investment is worthy.
The main advantages of second-hand equipment are:
Low purchasing price
Faster return on investment by a quicker return to production should it all go to plan
The main disadvantage of such equipment is the lack of guarantee from the seller's side and at times, the difficulty to determine its performance.
Refurbished equipment
Equipment that has undergone repairing by specialist companies which are well-known in the market for their know-how.
The main advantage of such equipment is obtaining a warranty, though not as long-lasting as with new equipment; and the option of having engineering support during dismantling and installation.
Upgraded equipment
This is equipment that has not only been a subject to a repairing of its main parts but also to some sort of upgrading either by the buyer's request or by market's development requirements.
Upgrading can include but it's not limited to improvements and replacements of electrical, hydraulic, etc. drives, single units, electrical equipment and process-controlled systems.
Ultimately, the decision what used equipment to purchase comes down to which seller you trust the most. The sellers you should be trusting are those with the know-how, integrity and honesty you need to take your factory production to another level.
About us
Used Lines & Machines – Global Marketplace is owned by EEEC (Europe) Ltd., an engineering and trading company. Our services range from assembling, dismantling, grouping, packing, loading and lashing into containers, shipping, assembling, commissioning, start up and final tuning.
We are one of the very rare companies in Europe which could also provide refurbishing or upgrading of the purchased equipment.
We can provide '"turn key'' projects and anything else your project may need.
Visit our websites: