Capacity: 12,507 LTRS
YOM: 2004
Maximum Pressure: 1/3,5 PS (Bar)
Minimum Temperature: 20/150 C°
Test Pressure: 7 PT (Bar)
ESL (Extended Shelf Life) products are distributed in the cold chain and with an expiration period of up to 30 days.
The installation consists of an automated tank with the incorporation of constant temperature control for ESL products, for the aseptic storage of liquid food products such as milk, yogurt, cream, rice pudding, goulash, sauces, etc.
This facility preserves the quality of the product between the production process and the filling machine.
It is a complete and partially disassembled TETRA ALSAFE (TETRA PAK) installation.
It has the complete valve cluster.
It was working on a cream production line, between the UHT and the filling machine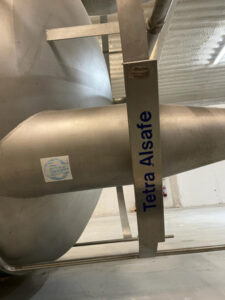 For more information, contact us.